SLUSH PUPPiE
BRAND
Join the number one brand in SLUSH (un-carbonated frozen beverages) and the original since 1970.  SLUSH PUPPiE is the iconic, authentic brand that consumers crave, love, trust, cherish and rave about. Available in over 40 countries world-wide, no other slush programs come close to delivering the influential purchasing power of the SLUSH PUPPiE brand. In partnership with ICEE, the number one brand in all frozen beverages, continued investment into the SLUSH PUPPiE brand attracts and develops a growing and passionate consumer base – customers that walk in and out of your locations daily. Simply said, you're joining the most powerful and influential SLUSH brand in the world.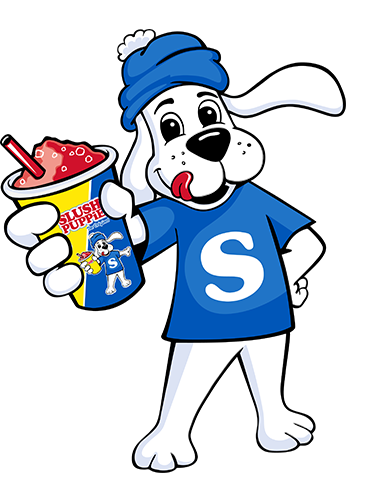 PRODUCT
FLAVORS
Quality ingredients paired with tried and true recipes, SLUSH PUPPiE products and flavors are dog-gone delicious. SLUSH PUPPiE offers an extensive variety of the most popular flavors for your SLUSH program. A core selection of 12 key flavors and up to 7 limited-time offer promotional flavors, no other SLUSH program offers the flavor innovations and variety of SLUSH PUPPiE. Whether it's nationwide and number one selling Blue Raspberry or innovative offerings such as Sour Green-Apple Watermelon, we have the flavors you need to set your SLUSH program apart from your competition.
CUSTOMIZED
EQUIPMENT SOLUTIONS
Whether you currently own your SLUSH equipment, or you're looking to add a SLUSH program at your location, we supply and support a wide variety of SLUSH machines. Through our distributor networks, we can help you re-brand your current equipment or find the right solution and program to provide you a SLUSH machine for your store. With flexible pricing programs including purchase, lease, rental, and bundled programs, we have a solution for you.
Click here for more equipment options…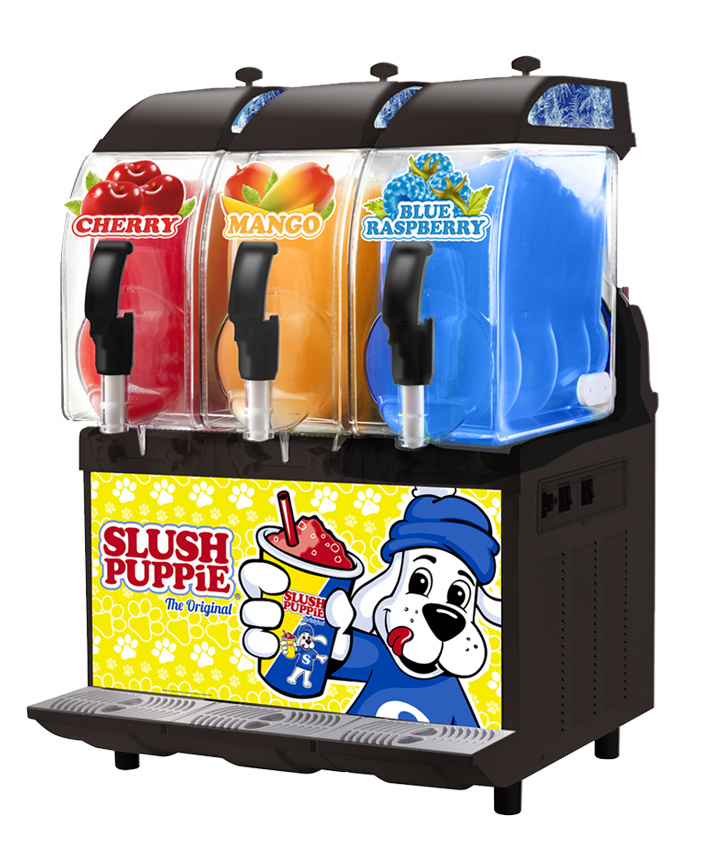 Backlit LED Splash Panel Signage for eye-catching point of sale signage, low energy lighting.
Cold LED bowl lights illuminate product to increase consumer demand.
Double insulated tank: reduces condensation for less mess, maintains temperature for less energy consumption, speeds up re-freeze time.
Cost effective: Energy Efficient (up to 60% less than other machines). Freezes down in 40 minutes.
Lockable lid with easy access for simple cleaning.
Auto-fill capable keeps visual bowls full all the time.
We offer a huge variety of high impacting graphics and merchandising to drive your SLUSH PUPPiE sales.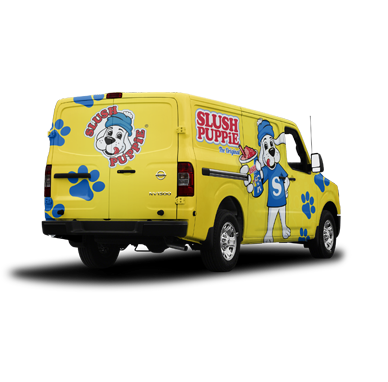 PREMIUM
SERVICE
With 100 corporate service centers across the United States, and a nationwide distributor network that provides fully-trained and timely service technicians, we're committed to keeping your SLUSH machine up and running.  Most of our programs include service to ensure your machines are pumping out profits.
JOIN THE PACK
Customize your slush solution! Join the number 1 brand, SLUSH PUPPiE. We are confident we can provide a customized solution that's right for your business. Click the button and let's start the conversation.
Get Started